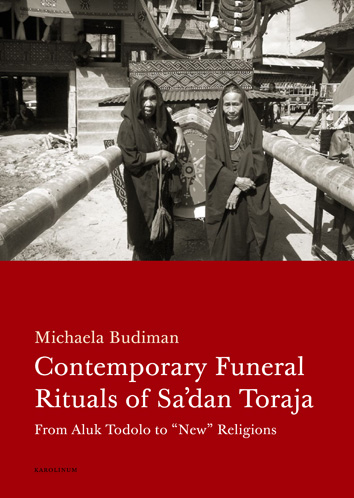 Contemporary Funeral Rituals of Sa'dan Toraja. From Aluk Todolo to "New" Religions
subjects: religion, Asian studies

e-book, 1. edition
published: september 2015
ISBN: 978-80-246-3059-5
e-book formats epub, mobi, PDF
recommended price: 165 czk
summary
Contemporary Funeral Rituals takes you inside the fascinating world of the Sa'dan Toraja, who inhabit the Indonesian island of Sulawesi. The author explores first-hand the most important contemporary Toraja ritual – the funeral – and documents and analyses the changes brought about by the Toraja leaving their autochthonous religion Aluk Todolo behind and embracing Christianity during the last century.


reviews
By completing her monograph Toraja Funeral Rituals, Dr. Michaela Budiman has provided a comprehensive and innovative scholarly work on one of Indonesia's most fascinating ethnic groups, namely, the Toraja. The Toraja (or Sa'dan) have been well-known amongst scholars and travelers alike for their unique syncretistic culture, which to a great extent revolves around the funeral rituals and the notions of afterlife. And this is precisely the theme of dr. Budiman's work. In writing this book, the author has partially drawn on her PhD dissertation. Quite importantly, Michaela's doctoral paper was (and so is this book) based on her extensive fieldwork in the Toraja highland and the outcome of them was, inter alia, a series of highly valuable interviews, which represent one of greatest assets of this publication. Thus, besides providing a well-balanced, comprehensive outline of the Toraja history and culture as a whole, dr. Budiman offers both detailed accounts of the funeral rituals as well as deep insights into the psyche or mindset of Toraja people, with a special focus on the original animist religion Aluk Todolo.
One can clearly see that her monograph is a product of her long-tem dedication, special interest and strong personal bond to the Tanah Toraja. Yet, as a (young and promising) academician, she does not bother the reader with sentiments, but with well-researched data that she views from the perspective of cultural anthropology.
While about two years ago dr. Mariana Narendra published a seminal monograph on the Indonesian ethnic group Minangkabau (in Czech), Budiman's book aspires to become a similarly important publication concerning all thing Torajan, which means, given the relative scarcity of publications on Indonesia in Czechia, it will basically become an etalon and reference book for many students and scholars of Indonesia in the Czech lands for quite a few years to come.
Besides her thorough analysis of the Torajan animist religion and its post-humous rituals, I highly evaluate the book for putting the Torajas in a broader context of the Dutch East Indies and Indonesia's history and human landscape. Significantly, the author has not omitted a comparison of the Torajas and their cultural elements with other relevant Indonesian ethnies such as the Bataks or the Minangkabau, either.
I can only recommend Michaela's book for publication since her monograph will undoubtedly be a great contribution to both the field of Indonesian Studies not only in Czechia, where Indonesia is so sorely overlooked and underestimated, but having been written in English, it will be a publication of great significance and relevance on the international scene of Insular Southeast Asian Studies as well as cultural and social anthropology.

PhDr. Tomáš Petrů, Ph.D.