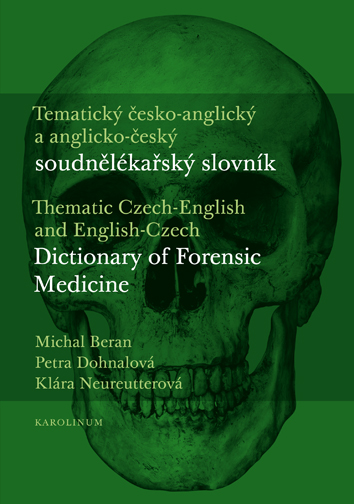 Tematický česko-anglický a anglicko-český soudnělékařský slovník
[Thematic Czech-English and English-Czech Dictionary of Forensic Medicine]
Beran, Michal – Dohnalová, Petra – Neureutterová, Klára
subjects: medicine – anatomy, language textbooks

paperback, 124 pp., 1. edition
published: february 2018
ISBN: 978-80-246-3712-9
recommended price: 190 czk
summary
An entirely unique professional publication in the field of forensic medicine comes to market. Its purpose is to serve as a unique and indispensable tool for study, translation of professional texts or an aid to prepare lectures and various texts for professionals and the general public.

The dictionary is divided into two main parts – the Czech-English and the English-Czech part, each containing 11 chapters. The individual chapters cover the terminology of 11 essential thematic areas of forensic medicine - Thanatology, Asphyxia, Forensic Traumatology, Traffic accidents-related injuries, Thermal injuries, Electrocution and lightning-related death, Ionizing radiation injury, Pressure change as an external factor of body harm, Forensic anthropology, dentistry/odontology, biology and genetics – Forensic science, Forensic toxicology and Basic legal terminology in forensic medicine.

The work is intended primarily for forensic pathologists, police officers, law professionals dealing mainly with criminal law, doctors in other fields, such as traumatology, surgery and others, but also for medical students and anyone interested in the field of forensic medicine.