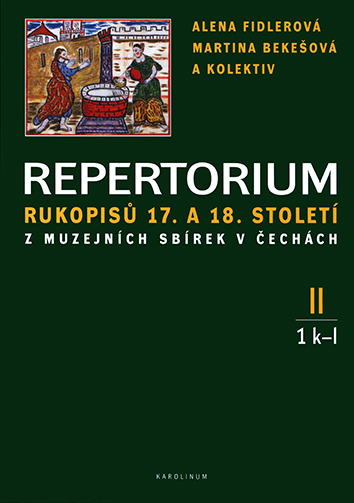 Repertorium rukopisů 17. a 18. století z muzejních sbírek v Čechách II (K–O)
Andrlová Fidlerová, Alena – Bekešová, Martina a kol.
subjects: Czech studies

hardcover, 1400 pp., 1. edition
published: january 2008
ISBN: 978-80-246-1459-5
recommended price: 470 czk
summary
This publication is a follow-up to an extensive project of an Inventory of 17th and 18th Centuries Manuscripts, whose first part was published in 2003, also in two volumes. The presented publication contains the list of Czech-related manuscripts which have been preserved in museum collections, organized by the starting letter of their locations: K–L (volume 1) and M–O (volume 2). These manuscripts are mainly prayer books, writings on ethics and morality guides, medical books and other practical handbooks for everyday life in the Czech country and small towns in the 17th an 18th centuries. The publication strives to systematize and supplement the scattered and almost inaccessible data and by means of rich photographic material points out the manuscripts of notable artistic quality.