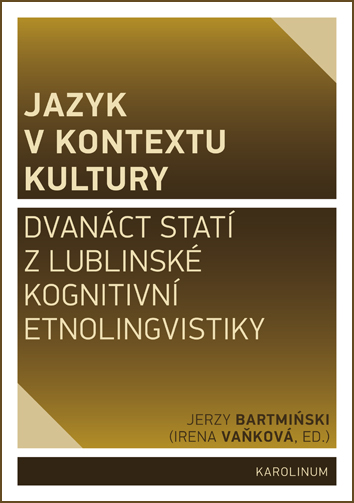 Jazyk v kontextu kultury
[Language in the Context of Culture]
subjects: linguistics

paperback, 170 pp., 1. edition
published: may 2016
ISBN: 978-80-246-2883-7
recommended price: 220 czk
summary
Jerzy Bartmiński (1939) is one of the most important Polish and European linguists, prominent figure in the field of modern ethnolinguistics and the founder of the Lublin School of Cognitive Ethnolinguistics. He defined and in cooperation with his colleagues applies original methods of research into the semantic structures of language, which are in many ways reminiscent of the cognitive linguistics of American origin, but also build on the best traditions of Slavic philology. By using these methods, it is possible to discover mechanisms of conceptualization concentrated in the culture of a particular language community, in their thinking, way of life and value systems. It reveals what image of the world is fixed in that language: the specific, handed down by the generations, old (and at the same time slowly or more rapidly changing) vision of reality has the form of various types of stereotypes and types, which through the study of language and textual data can be brought to the surface, correlated and interpreted.
Lublin School of Ethnolinguistics was originally based on the examination of colloquial language and folklore, searching for stereotypes and symbols anchored in popular culture. It later considerably expanded beyond these bounds, and concepts such as the linguistic worldview, (language) stereotypes or connotations were applied to the semantics in the broadest, ie. in the cognitive, social and cultural contexts, and regardless of the form of communication or type of texts, whether the study of contemporary language or its earlier stages of development.
Language in the Context of Culture brings Czech readers a look at the work of Jerzy Bartmiński's Lublin School of Cognitive Ethnolinguistics through this original translation of twelve studies into Czech.

Related events