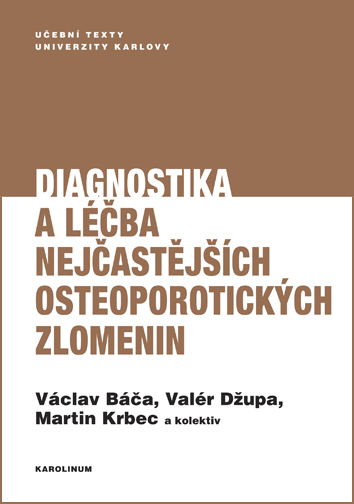 Diagnostika a léčba nejčastějších osteoporotických zlomenin
[Diagnosis and treatment of the most common osteoporotic fractures]
Báča, Václav – Džupa, Valér – Krbec, Martin a kol.
subjects: medicine

paperback, 76 pp., 1. edition
published: february 2017
ISBN: 978-80-246-3517-0
recommended price: 90 czk
summary
This textbook for medical students focuses on the diagnosis and treatment of the most common osteoporotic fractures. It is the printed material accompanying the Osteoporosis e-learning course (http://osteokurz.lf3.cuni.cz) offered to the students of general medicine at the Third Faculty of Medicine, Charles University in Prague.
The textbook is helpful for students of the Third Faculty of Medicine, UK, who did not participate in the e-learning course, but can also serve students of other faculties of medicine, CU, as a practical guide to the "orthopedic" perspective of the most frequent osteoporotic fractures.