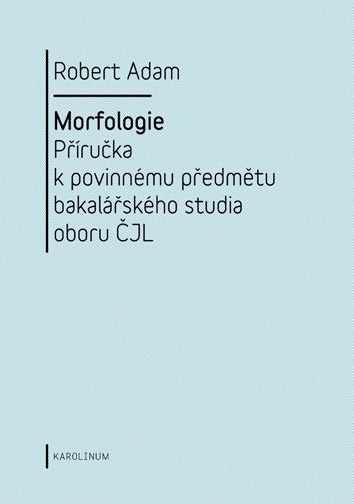 Morfologie
Příručka k povinnému předmětu bakalářského studia oboru ČJL
[Morphology. A Handbook for the Mandatory Subject of the Bachelor Level Czech Language and Literature Programme]
e-book, 1. edition
published: january 2015
ISBN: 978-80-246-2800-4
e-book formats PDF

summary
This book is available in the PDF format free of charges.

This handbook, Morphology, presents a relatively comprehensive description of the functional morphology of contemporary (mainly standard) Czech. Formal morphology is covered only on a general level, without presenting paradigms of inflected types and descriptions of inflection irregularities. As concerns morphological categories, it favours a more formal approach as opposed to a semantic one. To a considerable extent, it is based on the common concept of the morphology of Czech as it is explained in available grammar books and compendia (Mluvnice češtiny 2 [Czech Grammar 2], Encyklopedický slovník češtiny [Encyclopaedia of Czech], Příruční mluvnice češtiny [Handbook of Czech Grammar] and Čeština – řeč a jazyk [Czech – the Speech and Language]).

This handbook is a university course book; it is intended for the students of the mandatory morphology class which is included in the bachelor level Czech language and literature programme at the Faculty of Arts, Charles University in Prague.

Download