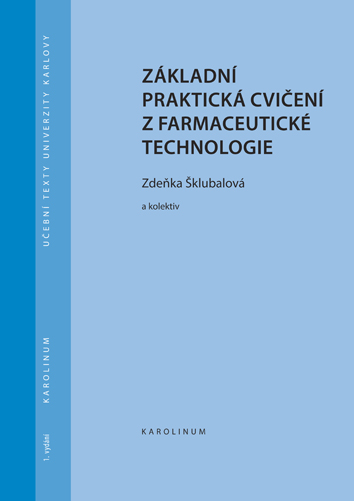 Základní praktická cvičení z farmaceutické technologie
[Basic practical exercises in pharmaceutical technology]
subjects: medicine – pharmacology

paperback, 136 pp., 1. edition
published: april 2020
ISBN: 978-80-246-4561-2
recommended price: 170 czk
summary
Practical exercises are important part of instruction in pharmaceutical technology, which provide students of the pharmaceutical faculty with basic information and skills in the preparation of dosage forms.
The textbook is divided according to the technological specifics of medical agents and is arranged from simple forms, represented by homogeneous sets (solutions and special types of solutions), through colloid dispersions (slimes and gels) to coarse dispersions (suspensions, emulsions). Basic knowledge is applied and developed in semi-solids (ointments, creams, pastes) and solid forms (suppositories, vaginal suppositories, oral tablets, powders).
The book also includes a chapter on incompatibilities, emulsifier charts and solubility charts for selected curative and auxiliary substances. It focuses on three main aspects of preparation: knowledge of requirements on different dosage forms; learning the correct techniques and basic principles of work in a pharmaceutical lab; understanding basic technological principles and approaches used in the preparation of drugs for different methods of application.
In addition, it covers assessment of critical factors which influence the quality of the drug with regard to its stability, microbiological quality and efficacy of the drug, the selection of a suitable container and determining the length of usability of the preparation.