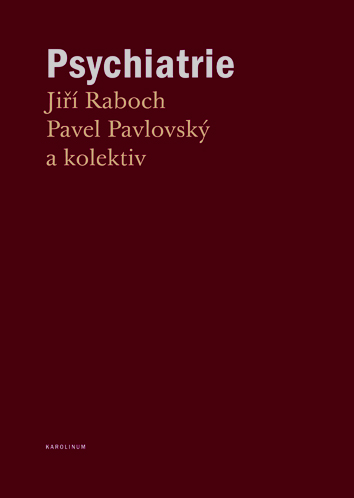 Psychiatrie
[Psychiatry]
Raboch, Jiří – Pavlovský, Pavel a kol.
subjects: medicine – psychiatry

hardcover, 468 pp., 2. edition
published: july 2020
ISBN: 978-80-246-4604-6
recommended price: 420 czk
summary
This second edition psychiatry textbook was designed primarily for students of medical faculties. Nevertheless, the extent of many of its chapters exceeds the requirements for pre-graduate study and provides a lot of information also important for the preparation for the postgraduate examination as well as for everyday use in psychiatric practise. The texts of most of the chapters were compiled by experienced scholars from the Psychiatric Clinic of the First Medical Faculty, Charles University, who in addition to elementary psychiatric issues also addressed topics that are less common in introductory textbooks, such as clinical psychology, psychiatric genetics, biology, biochemistry, pharmacogenomics and aggression. As the book includes chapters on child, cross-cultural, social, forensic and military psychiatry, it will also be useful for psychiatrists and specialists in other areas.