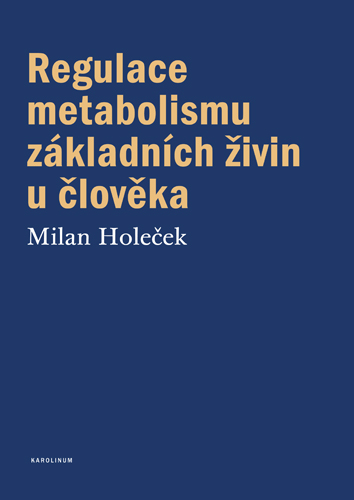 Regulace metabolismu základních živin u člověka
[The regulation of the metabolism of essential nutrients in man]
subjects: science – biology

hardcover, 1. edition
published: april 2016
ISBN: 978-80-246-2976-6
recommended price: 320 czk
summary
This textbook focuses on the regulation of the metabolism of individual nutrients under physiological conditions and in some pathological states.
The introductory part of the book presents the general principles of metabolism regulation and the role of enzymes, transport systems, nervous and endocrine systems and many humoral factors effective in maintaining balance between anabolic and catabolic reactions. The book further contains chapters on controlling the metabolism of energy, carbohydrates, lipids and proteins. A special section is devoted to the metabolism of individual amino acids. The last two chapters describe the regulation of the metabolism of nutrients in different physiological conditions (food intake, fasting, starvation, physical strain) and in some pathological states (systemic inflammatory response, obesity, diabetes mellitus, cirrhosis of the liver, renal insufficiency and tumor diseases). It also discusses the importance of nutrition in prevention and therapy for some diseases.
The book serves as a complementary text for undergraduate and post-graduate study of medicine.