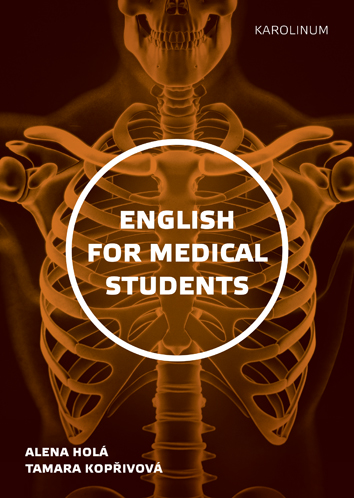 English for Medical Students
Holá, Alena – Kopřivová, Tamara
subjects: medicine, linguistics, education

paperback, 176 pp., 1. edition
published: september 2020
ISBN: 978-80-246-4679-4
recommended price: 280 czk
summary
The textbook English for Medical Students is aimed at students of the Faculty of Medicine with upper intermediate level of English. In addition it can also be used by the professional public. Students get acquainted with English medical terminology based on the anatomical description of the body systems. An integral part of each chapter are Language spots (selected linguistic phenomena in medical English), Reading spots (information from medical practice) and Grammar spots (selected grammar in medical context). The texts are accompanied with listening exercises and supplementary reading materials related to discussed medical topics. There is also an overview of the most frequent medical abbreviations and English-Czech vocabulary.

Complementary materials are available for download for free via the Download tab.
Soundcloud channel with online audio tracks.
Download