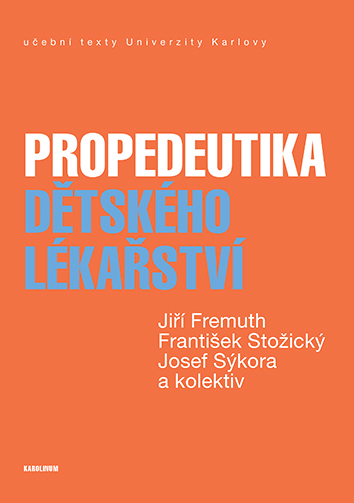 Propedeutika dětského lékařství
[Propaedeutics of Pediatrics]
Fremuth, Jiří – Stožický, František – Sýkora, Josef a kol.
subjects: medicine – pediatrics

paperback, 142 pp., 1. edition
published: april 2021
ISBN: 978-80-246-4741-8
recommended price: 190 czk
summary
The textbook is intended for students of general medicine and stomatology to become acquainted with taking anamneses and the principles of physical examination of child patients. The scholars aim to emphasize the basic differences between pediatrics and internal medicine for adults when obtaining anamneses, in the techniques of physical examination and in interpreting physical findings with respect to the specific age of the examined child. Focusing on clinical aspects, the textbook strives to be a practical tool for everyday practice of students of medicine as well as beginning doctors. It is a supplement to the textbook Basics of Pediatrics, which focuses on detailed exposition of individual diagnoses in childhood.