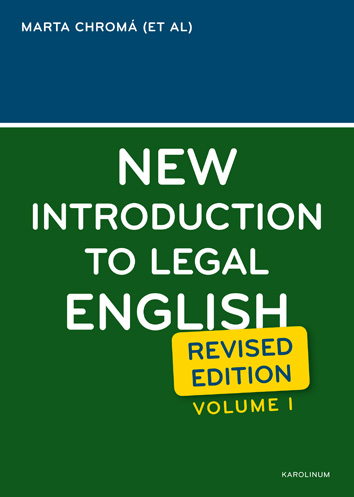 New Introduction to Legal English I. Revised Edition
Chromá, Marta – Dvořáková, Jana – Davidson, Sean W.
subjects: language textbooks, law

hardcover, 488 pp., 6. edition
published: august 2011
ISBN: 978-80-246-1950-7
recommended price: 365 czk
summary
This basic textbook of legal English has for over 15 years provided an introduction into the Anglo-American legal system, acquainting readers with the problem area of translating legal texts and of English as the lingua franca between various legal systems. The sixth edition was completely revised and updated with information on current legislative terminology and new sample texts. Its new attractive layout makes working with the texts and remembering important concepts easier.
The first volume, consisting of twelve lessons, contains chapters dedicated to the study and translation of the law, the Anglo-Saxon legal system, the constitutional systems of the majority of English speaking countries, the division of law into private law, public and international, etc. Individual lessons contain practical exercises with a solution key and a glossary of new terms as well as useful appendices such as "How to write a CV" and "Overview of English legal dictionaries". The textbook is intended not only for students of law schools and translation studies, but also for practising lawyers, judges and prosecutors.

table of contents
TOPICS IN VOLUME I
1. LAW AND LEGAL EDUCATION
2. COMMON LAW AND EQUITY
3. LEGISLATION
4. DIVISION OF LAW
5. CONSTITUTION AND POLITICS
6. ELECTORAL PROCESS
7. PUBLIC INTERNATIONAL LAW
8. PROPERTY LAW
9. INTELLECTUAL PROPERTY
10. INTRODUCTION TO CONTRACTS
11. DISCHARGE OF CONTRACTS
12. FAMILY LAW
APPENDIX I WRITING YOUR CV
APPENDIX II AN OUTLINE OF LAW
DICTIONARIES