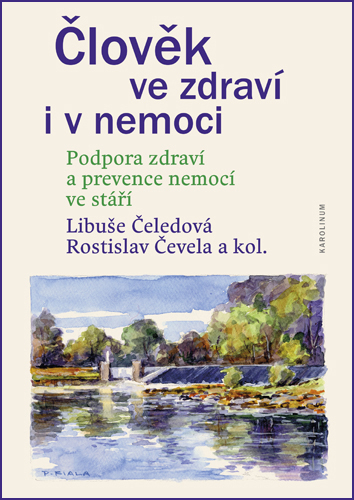 Člověk ve zdraví i v nemoci. Podpora zdraví a prevence nemocí ve stáří
[Man in Good and Poor Health. Health Support and Disease Prevention in Old Age]
Čeledová, Libuše – Čevela, Rostislav a kol.
subjects: medicine, gerontology

, 1. edition
published: january 2018
ISBN: 978-80-246-3828-7
recommended price: 420 czk
summary
Almost forty authors, all experienced doctors of medicine, participated in the compilation of this book, which presents basic information on disease prevention and health support in old age, healthy lifestyle and the psychology of old age as well as current information concerning social security.
The book consists of three sections. It presents the basics on the functioning of the body and the most frequent diseases related to old age, emphasizing preventive care and social and demographic topics. All chapters refer to current scientific findings and focus on prevention and health support in old age. This book may serve as a reliable guide for anyone with an active and constructive approach to his or her ageing, through expanding the scope of their interests, accepting their age and coming to terms with their problems being aware of limitations as well as options.